October 6, 1944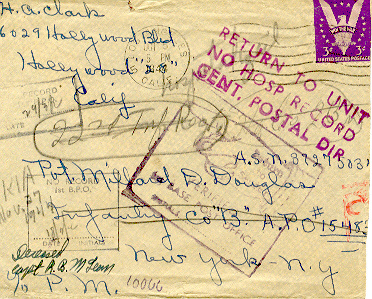 The letter in this collection was written by Mrs. H. A. Clark, of Hollywood, California, to her son Private Millard D. Douglas. The cover from this letter is full of information. The letter is incorrectly dated October 6, 1944, since the postmark states that the letter was at the Los Angeles Post Office on October 5, 1944. Mrs. Clark addressed the letter to her son at "Infantry Co "B," which most likely delayed the delivery of the letter. All regiments should have a Company "B." In pencil, near the address, is written "hospitalized, 22nd Infantry Regiment." Once Private Douglas' regiment was identified, the letter was forwarded to the hospital.

There, a stamp was placed on it that said, "Return to unit. No hospital record. Central Postal Director." Then in pencil, the cover states, "KIA Nov. 27, 1944," and Captain R.B. McLean has written "Deceased" on the bottom left. Since the letter was at the post office on October 5th we must assume that Private Douglas would have received the letter, if his mother had put 22nd Infantry Regiment on the cover. Since it only said "Company B," the letter was delayed until after his death on November 27th.

Although short, the letter is very interesting. His mother said that she was waiting for a letter. We can assume that Private Douglas' duty prevented him from writing often. I think it is interesting that Mrs. Clark did not know for certain if her son was fighting in Europe at the time. She states that "if you are there, [I hope] you come through fine." This letter is also a terrific example of wartime shortages on the home front. According to Mrs. Clark, "Cigarettes are so hard to find. We are short on butter, cream and cigarettes right now in the stores."

Included with the letter was a newspaper article about a soldier named Joe Foss of Santa Barbara, California. Major Foss "downed 26 Jap planes" at Guadalcanal. He contracted malaria and was now "invalided home." Mrs. Clark wrote, "here is a clipping of Joe Foss I thought that you would like to see." We can only assume that Private Douglas knew Major Foss, back in California.